Welcome bloomers again here, The Samsung Galaxy S22 Ultra is a premium smartphone from tit to tat. You will be amazed at its first look and feel premium body when taking it to hand. The borders of the phone are rounded apart of the upper part which is flat and has a tiny hole which is a microphone.
Below the phone has a space for the S Pen, With the power of Galaxy and Note gives a smoother experience in writing like you are playing on a buttery surface. You get a speaker grill of Stereo speakers, USB C type, microphone, and a dual SIM tray.
The back of the body seems to curve on both sides leaving the upper and lower parts, which gives a better grip and eye-catching look when you are among a group of phone users. You can see a SAMSUNG logo on the back of the Samsung S22 Ultra, which seems little bold color than its back color.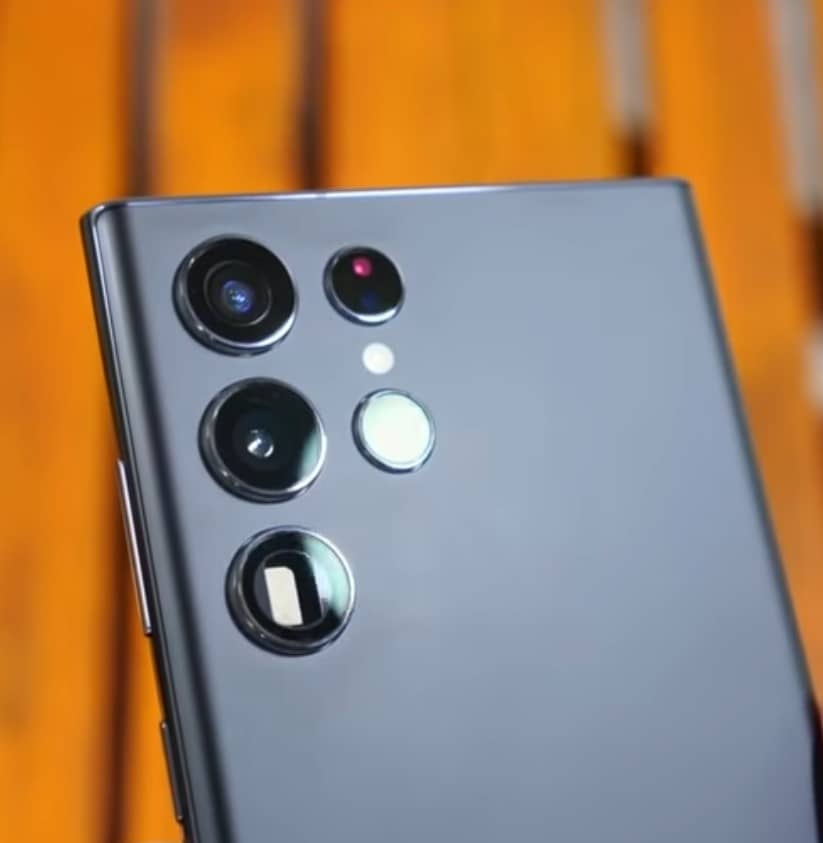 Read also:- Nintendo Switch OLED Model: Must Read Before You Buy
When coming to the photo portion, you get Quad-cameras means your photos are about to trend in social media. You get a 108MP OIS f/1.8 Aperture as the Main camera with the support of a super clear lens, the secondary camera is the ultrawide camera of 12MP with dual-pixel autofocus technology, the third camera is of 10MP with 3X optical zoom with OIS, and the fourth camera is of again 10MP with 10X optical zoom with OIS. There is also a laser autofocus system with an LED flash.
When talking about the display, then it is going to be a 6.8 inches Quad HD+ Dynamic AMOLED 2X display. The display looks too much clear whether it's watching on Netflix, playing games, YouTube, and more. The screen looks rich and butter to move between different apps. Samsung Galaxy S22 ultra comes with a 128Hz adaptive refresh rate. Overall, the display is amazing and goes more with high brightness. The phone has Gorilla Glass Victus Protection and an IP68 rating.
Read also:- Oppo Find X5 Pro about to launch in January?
You get a 40MP selfie camera to take your photos on the moon. Samsung Galaxy S22 Ultra runs on the latest One UI version 4.1 based on Android 12. S22 has the power of the latest Qualcomm Snapdragon 8 Gen 1 and Exynos 2022. It has a 4 nm superpower 5G processor. You get 2 options for RAM [8GB or 12GB] depending on your need. You can expand RAM up to 8GB means your phone has a total of 12GB of RAM.
Samsung Galaxy S22 Ultra has 128 GB, 256GB, and 512GB of internal storage. When coming to power then it has a 5000mAh battery with fast charging support and super-fast charging support. It also has fast wireless charging support and reverses wireless charging. You get almost all the features regarding charging that a 2022 smartphone demands.
The features of the S pen are top-notch means you get here more than your expectations. You can connect your S pen with Bluetooth accessibility. It has features like air actions, commands to do what you want in 2022 style. When coming to the security of the phone then it comes with a biometric feature in-display ultrasonic fingerprint scanner, which means you can open your phone within point seconds. The face unlocks feature also adds beauty to your Samsung Galaxy S22 Ultra.
The camera has a lot of features to explain which I can't tell here but due to the super clear lens, you get a nightography feature from which your videos in dark night are going to be even better also you can't forget to take pics in dark. You also get features like Samsung Desk and link to windows to feature that helps you connect between your PC easier and faster.
This is what I could write for the upcoming Samsung Galaxy S22 Ultra from taking a virtual feel of the phone. Yes! I don't have it right now and am also not capable to get it right now :-). As a new blog, Need your support to make it all possible in bringing the content on Technology, podcasts, Health at this stage.
Thanks for visiting thebloomtalks.com.