Samsung Galaxy Book2 360 is something you need in your lifestyle to make your living easier, faster, and happier. Why I am saying this, will going to reveal in this beautiful conversation of Samsung Galaxy Book2 360.
What is Intel Evo certification?
Intel Evo certified laptop means it has passed through tests like giving battery life up to 9 or more hours with an HD display, 8 Hours with QHD, and 7Hours with UHD. The laptop awakens from sleep mode in less than 1 second. Like the flow of the river, the battery maintained its consistency in giving power to the system. The system should be charged under 30 minutes in order to give around 4 hours of backup to the user with HD screens.
Highlights
Samsung Galaxy Book2 360 is now EVO certified that runs on 12th Gen Intel(R) Core(TM) i5 or i7 (EVO) Processors. Installed Windows  11 is definitely going to increase productivity and performance at a vast level even though fighting with heavy workloads given by your company.
Samsung Galaxy Book2 360 specifications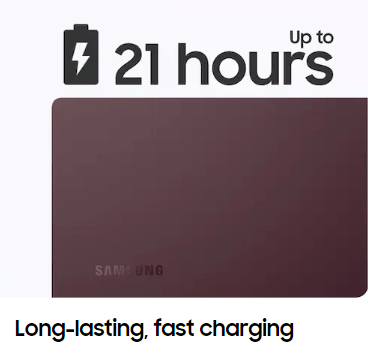 Display:- 13.30 inch with Touch Screen
Storage:- 512GB of SSD Storage
RAM: 8GB of LPDDR5 RAM
Operating System:- Windows 11
Colors:- Silver and Graphite
Moreover amazing graphics and an advanced cooling system to make your lappy cool like ice. High-Resolution video on video calls was just made possible because of the FHD camera with auto framing. It covers a wide angle, removes distractions, and smart noise cancellation feature with the AKG and Dolby Atmos audio speakers.
You and your data are now more safe with its intelligent biometrics system. Book2 360 is protected from malicious code out of the OS. You have a power of 68Wh Li-ion battery
Your connectivity to the web becomes faster, even more, faster as installed Wi-Fi 6E enables you to access ultra-fast data speed with a 6GHz band, more spectrum, and wider channels. Are you living an average lifestyle with your old laptop then what's waiting for? Get one yours too from the Samsung.com at just $1,249.99
Getting a double burger costs $ you but accessing a double screen with your Galaxy Tab or mobile in Book2 Pro got a lot easier for you. To control your secondary display just slide the cursor from screen to screen. This way your mentoring seems easy, right!
The sharing is caring! You can share your data and files quickly to Samsung Galaxy devices via the Quick Share feature. Similarly, You can bring your Galaxy apps to Galaxy Book2 Pro 360. Literally, it looks and feels amazing in the past applications like BlueStacks are used to install the android apps on PC but the Galaxy Book2 360 made it simple.
Galaxy Book2 Pro-weight
It weighs 1.04 Kilograms
Galaxy Book2 Pro Charger weight
As reported by Guideclear, it weighs around 127grams.
There are many other features of Galaxy Book2 Pro that claim it has a built-in Galaxy. To read the full specifications just click here. The images used are screenshots from Samsung.com. #Samsunggalaxybook360 #galaxybook360
Keep visiting thebloomtalks.com.