What do you think about the use of these displays installing on the windows of the subway?
Welcome, bloomer's again here, Today I am going to tell you about the LG is about to install its OLED displays on the windows of the subway in China. Let's bloom more about it?
LG is about to install its OLED displays on the windows of the subway in China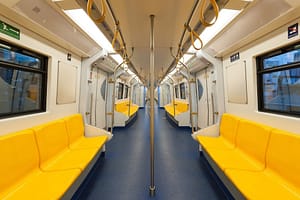 Photo by
Pixabay
from
Pexels
LG planned recently for the installation of OLED displays to subways in Beijing and Shenzen. This 55-inch display will flaunt real-time details for subway schedules, locations, and transfer on train windows.
Also flaunt of flight timings, weather & forecasts, and news to the passengers on subways. Passengers will be able to see on line 6 in Beijing and line 10 in Shenzhen. LG has further planned for the installing of more OLED displays on subway lines by tying up with railroad companies and train glass manufacturers. Dr. Chang-ho oh, the senior vice president at LG display says the demand of these displays will become diversified for many purposes and aims to deliver the products to a wide array of industries with its sights to leading display solution provider.
These displays have 38% of transparency with full HD resolution. However, these displays have already been installed in South Korean subways to provide information in train timings, subway routes, live news, etc,. These displays are playing a crucial role in the advancements, flexibleness of passengers' time, and entertainment while traveling. These displays are not only targetting subways portions but also targetting industries, malls, buildings, shops, commercial sectors, etc. A. to me it helps to convey the new information to a large no. of people in a convenient place or crowded place.
Thanks to visit
thebloomtalks.com.