Welcome bloomers again here, Alphabet the parental company of Google situated in California set a new record for the annual revenue in 2021. Just after the pandemic they globally supplied their services. The Alphabet company made $257 billion in 2021, A record broke jump for the company ever, as every year 41% growth was maintained. Alphabet reported $75.3 billion in the fourth quarter of 2021.
Q4 also looked out for a bold growth in their advertising business through helping millions of businesses in finding new customers. The sales of Pixel phones and cloud services grew strongly, told in a statement of earnings via Sundar Pichai. He also announced a 20-for-1 stock split going to launch in July.
How do Google and Alphabet make $8.16 Billion?
Google not only broke out the numbers for its devices like nest smart home products, pixel phones, and Android operating system, yet they included it in Google services. This services category also includes google search and Youtube. Both of them derive high revenue from Google and also are the best performing services offered by them. The other categories of google brought nearly $8.16 in revenue in the fourth quarter.
Google advertising revenue reached $61.24 billion for the quarter. Apple's new privacy policy in iOS is used to track the user's activity in different apps and websites if they allow so. This policy of Apple affected badly the advertisers in targeting ads to users.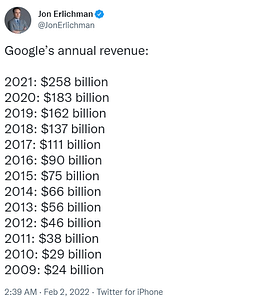 Facebook (now Meta), Twitter, Snapchat, and YouTube lost nearly $10 billion in revenue due to these privacy changes. As you know Google and Youtube collect their own data from their search traffic daily, So Google doesn't affect much by this new apple privacy update. Alone, Youtube generated $8.63 billion from ads in the fourth quarter of 2021.
The company also announced an operating loss of $890 billion on their cloud segment on revenue of $5.54 billion. Other services offered by them including autonomous vehicle division waymo and life sciences division generated around $181 billion in revenue.
Alphabet made $200 billion revenue first ever in their history. I hope you loved to read this and somewhere in your mind clicked the ignition.
Thanks for visiting thebloomtalks.com.